Post-Brexit Britain needs fresh industrial deal to rebalance economy, new report urges
Press release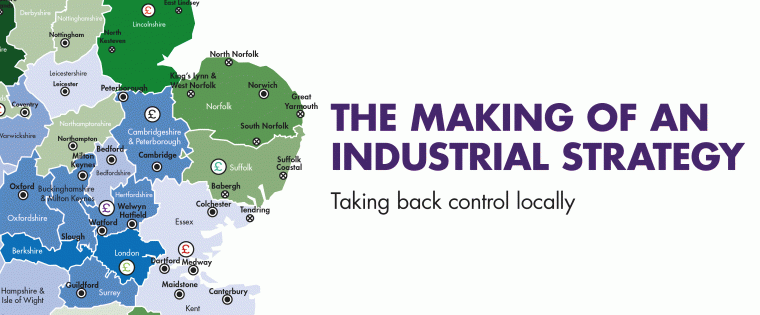 Government must broaden its focus from the major cities to small town England if it is to make an economic success of Brexit, a new report issued today has urged.
Analysis by the think-tank Localis makes the case that those parts of the country home to small and rural towns, which contain some of the structurally weakest local economies in England – and the same areas that voted predominantly in favour of Brexit – deserve radical new powers to revive moribund local economies.
These should include devolved powers over planning to help towns and cities expand, local transport, tax-setting policy, business incentives and labour market freedoms to help attract the right talent for major local employers, the study advises.
The key recommendation is contained in a new report, entitled 'The Making of an Industrial Strategy: Taking back control locally' which found two-thirds of England has no governance structure with the strength and capacity to help deliver the Government's national Industrial Strategy.
It further suggests 47 strategic authorities, covering the totality of England, are needed to make use of new locally-held powers to boost economic output.
Liam Booth-Smith, chief executive of Localis, said: "Some parts of England haven't recovered from the economic trauma of the 1980s. These, the most 'stuck' economies in the country, are of increasing political importance.  Not only are they the beating heart of Brexit Britain, but home to a new wave of battleground parliamentary seats.
"In the aftermath of triggering Article 50, the Government's industrial strategy has to address a political imperative of how the benefits of growth are fairly shared across the nation to reach these areas.
Mr Booth-Smith added: "We need to expand economic policy out from big cities to small town England.  Our report is a roadmap for turning a national industrial strategy into local economic renewal."
Writing in the foreword to the report, Secretary of State for the Department for Business, Energy and Industrial Strategy, Greg Clark, said: "As I have said before, growth doesn't happen in abstract. For growth to occur a business needs to choose to invest and take a risk. These decisions happen in places, they affect local people.
"The Prime Minister has made clear that we need to 'drive growth across the country' and the industrial strategy will not ignore this reality.
"Place will be an important feature of the industrial strategy, it will be a lens through which to make decisions and judge success. Local civic and business leaders will be central to ensuring the government's vision of a country sharing in the prosperity of growth.  This means we need everyone to work together in the national interest.
"As the recent industrial strategy green paper sets out I am hoping for as much feedback and  collaboration as possible from councils, businesses, universities, colleges and communities. Government won't have all the answers and this means we need partners to help us build a strong industrial strategy. This Localis report is an important contribution to that effort."
Leader of Birmingham City Council, Cllr John Clancy, said: "This is a landmark report which comes at a critical time in the development of the UK's new industrial strategy.
"Birmingham and the West Midlands are at the heart of the UK's industrial economy and our success as a region is critical to the future prosperity of the nation post-Brexit. We are determined to ensure that we work with government and our partners in the business community to deliver a powerful and effective industrial strategy for the West Midlands.
"A successful industrial strategy requires a place based approach, as recognised by the government. But that means radical devolution of powers and funding and not just local strategies drawn up in Whitehall. This report shows how that can be achieved and I look forward to working with government to take this agenda forward in the years ahead," Cllr Clancy added.
Leader of West Sussex County Council, Cllr Louise Goldsmith, said: "I am delighted to see this Localis report published and welcome its focus on the importance of a locally-led industrial strategy. I am pleased that West Sussex County Council has been able to contribute to the development of such a comprehensive and insightful report."
The report identifies the top 28 'stifled' areas of the country, places such as Oxford, Cambridge and York, typically urban areas in rural seas, whose ability to expand their economy is pegged back by lack of room to grow.  It further identifies 30 'stuck' areas of the country, including Blackpool, Copeland and Stoke-on-Trent, which are some of the structurally weakest economies in England.
To remove barriers to local productivity and implement the Government's industrial strategy, the report calls for the immediate establishment of 47 strategic authorities – incorporating existing Combined Authority areas – across England.
These authorities would have agreement from ministers to take ownership of a full suite of economic and fiscal powers, through an 'industrial compact', allowing them to compete globally –  in the biggest single domestic transfer of power since the establishment of the Scottish Parliament.
Key recommendations for the industrial compact include: –
powers over local labour markets, including the right to vet and process all work and study visas and oversight of local skills provision;
giving strategic authority leaders, such as combined authority mayors, call-in powers to intervene in the local planning system and grant planning permission on sites of industrial importance;
duties to develop long-term transport strategies and regulatory control over local bus and suburban rail services – including integrated ticketing systems
The report also calls for: –
the replacement of European structural funds and national Local Growth Funds with a single economic cash pot, the 'Accelerated Growth Fund';
granting greater local tax-raising powers and discretion to use tax reliefs to incentivise growth, including giving local authorities full discretion on whether to levy discretionary business rates reliefs to charities;
establishment of 'fiscal freedom zones' in 'stuck' places – giving areas with weak economies incentives to attract new businesses by:

doubling existing enhanced tax reliefs to secure development funding from angel investors;
waiving corporation tax charges to firms newly entering the country and which choose to locate their headquarters in designated fiscal freedom zones;
evaluation of fiscal pilot projects, in which local leaders could trial a variety of revenue-raising powers, such as powers to set VAT locally and take a local top slice of corporation tax;
allowing areas of high growth, currently stifled from expanding to their fullest extent by their lack of land to build, to petition government for boundary expansion, drawing land from neighbouring authorities to meet demands for housing and economic development;
help in the form of a growth fund to develop leadership capacity for the country's weakest local economies;
introduction of a zonal infrastructure levy – making all new residential developments contribute towards the costs of delivering new transport, as happens in Sydney, Australia.
giving strategic authorities the right to propose the relocation of Whitehall departments and agencies which would complement their local economic clusters.
ENDS