Climate Resilience in Local Plans
Adaptation and mitigation in local development
Author: Sandy Forsyth |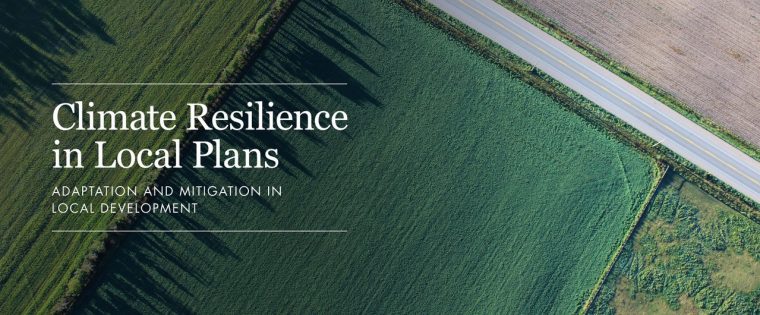 This short report is part of our ongoing series on the construction of a Local Resilience Act.
As climate shifts worldwide, councils across England are being hit by increasingly extreme weather patterns including violent storm surges, unbearable temperatures, and widespread flooding. At the level of place, our local authorities are best situated to understand and to act upon individual resilience requirements from city to country to coast. However, the current funding landscape for local government to deliver resilient places is far too piecemeal and insufficient. Furthermore, the system is overwrought with complexity – the division of responsibilities between local, central government and industry are too fragmented and disconnected for this to be addressed as a whole place agenda. For these reasons, Localis proposes the codification, consolidation and strengthening of local authorities role through a Local Resilience Act.
Climate resilience in local plans is the first in a series looking at various dimensions of a Local Resilience Act and begins with the basic question of what impact duties placed on local government of the kind proposed have on the outcomes of local development plans. Local Plans form the backbone of the planning system and the basis for development across the country, providing the requirements that must be met whenever planning permission is sought for new development. As such, Local Plans can play a substantial role in the country's response to climate change: the National Planning Policy Framework holds planning authorities responsible for ensuring climate commitments are met, including biodiversity goals and improving the usage of renewable and low-carbon energy sources.
Key Points
The purpose of this short report is to evaluate the role that Local Plans currently play in driving climate change resilience across England, and where the planning system falls short of providing the protection necessary for people and communities against the impacts of a changing climate. The research involved reading 88 Local Plans, all adopted after 2018, and drawing out instances where climate change impacts have been included as informing the development strategy, either in a background or a primary manner. It is evident that where there is a duty place on local authorities to enact adaptation to climate change, adaptation will occur.
Much work is already being done in the drive to net zero and reducing carbon emissions, coming off the back of the Climate Change Act of 2008 alongside efforts to reduce waste and support sustainability. Local authorities are devoted to ensuring the best possible strategies for development and the highest quality of life for constituents and as such will enact as much change as possible for the benefit of people, communities, and the environment, provided there are the resources and support available. As a result, there are plenty of examples of best practice when it comes to adaptation to environmental change and climate extremes. However, when guidance, no matter how practical and detailed, is vague and in need of balancing with multiple other obligations, it is difficult for all local authorities to respond substantially to potential risks.
Every part of the country should be allowed the highest level of multi-dimensional resilience to the risks of climate change. A strategy
focused on the risks of climate change alone is, at this stage, necessary. The inconsistencies in adaptation must be eliminated in order that best practice becomes common practice across the UK. Local authorities are placed in optimum position to provide tailored adaptation
to the impacts of climate change. There needs to be open-access climate risk data that considers risk at the level of place, consideration of risk at all levels and of all kinds, and there needs to be suitable responses to risk – alongside the funding and opportunity to enact these responses. Legislation must be able to ensure that action is being taken in all required aspects of climate adaptation, in a way which is readily available for public scrutiny. This is a case of consolidating and strengthening what exists, whilst raising the baseline across local authorities for a consistent national approach.