Boris Johnson's first year as Mayor
A debate on Boris' first 12 months as London Mayor
Author: James Morris, Anthony Browne, Darren Johnson, Andrew Gilligan |
A debate on Boris' first 12 months as London Mayor with speakers Andrew Gilligan, Anthony Browne, Merrick Cockell and Darren Johnson AM.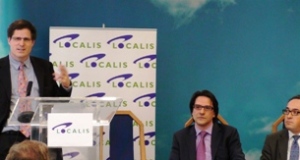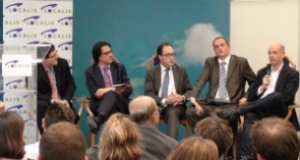 Following the event, we wrote a short piece in our monthly newsletter on Boris' first 12 months:
The first 12 months of Boris Johnson's mayoralty have come and gone, but how successful have they been?
During a debate on this topic which Localis held last night, questions did emerge as to whether or not the Mayor had a clear direction for London. Darren Johnson AM commented that Ken Livingstone had a clear agenda for London during his Mayoralty, even if perhaps it was not always universally popular. He then argued that Boris did not have this same overriding sense of direction.
This is of course highly debatable.
Firstly, it could be argued that Boris does indeed have a focussed agenda for London. He has made clear of his intentions to reduce anti-social behaviour, enhance the ease of use and quality of public transport, and cut organisational wastage and spending where possible. He has made strides in each of these categories; firstly providing funding for an additional 440 PCSOs to patrol bus and tube stations and banning drinking on public transport; secondly expanding the Oyster card scheme and his pledge to push forward with a London-wide cycle hire scheme; and finally scrapping the Mayors official newspaper 'The Londoner' and freezing council tax in London.
Of course then there is the question as to whether or not one year is enough time to truly stamp your authority on a city such as London. Andrew Gilligan said that it had taken Ken Livingstone a few years before he even published detailed plans for London's transport. Other plans can either take much longer to implement – such as tackling teenage knife crime, or may not even be measurable – for example the banning of alcohol on public transport – as no information is kept by staff as to how many times the rules are broken.
Another aspect was whether or not Boris has a big idea for London, perhaps in a similar vain to the scrapping of the congestion charge by Livingstone. Whether or not such an idea exists, surely the point here though – is does he really need one? A big idea is often a vanity project, one that the media will pick up upon which may not even directly help the majority of people. Boris is pushing many incremental changes and policies – such as the planting of 10,000 new trees, the London Living Wage, and having tubes run for longer at weekends, which will benefit people in their daily lives.
He has though backtracked on a few issues, for instance his pledge to end Livingstone's policy of almost always allowing the development of high rise buildings throughout London, and he has been accused of doing so with regard to his pledge for a new Routemaster bus – which appears to be progressing very slowly.
Whether or not he has a big idea for his Mayoralty, or indeed has a firm direction for the future of London, Boris is not afraid to make the tough decisions – shown by his actions in the process of removing Sir Ian Blair as Commissioner of the Metropolitan Police. Neither should we forget that unlike Livingstone, Boris is constrained by the financial state of the country, which must be conflicting with some of his plans. It is for these reasons that his first year has been successful and indeed we should expect more to come.
This event was a follow up to the successful 2008 Million Vote Mandate publication and event.