"Level best? decoding local growth policy": Monday 5 July from 11.00 a.m. to 12.00 p.m.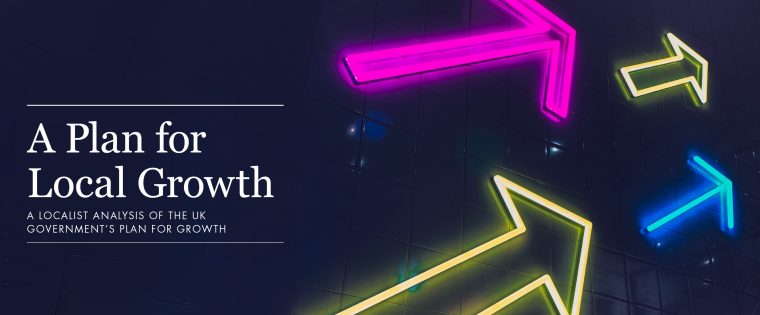 As the government looks to give a more definite shape to the levelling up agenda through the forthcoming white paper, it is more important than ever to challenge and interrogate the concept, its origins and its goals.
Discussions are warranted over exactly what "Levelling Up" will entail across the broad array of policy interventions it has been linked with, what kind of outcomes it is targeted to achieve and where the beleaguered local state fits into the picture.
Much of the criticism of the levelling up agenda centres on its seeming amorphousness. At a place level, issues of livability, built environment, skill provision and productivity are of course intrinsically connected but they are not the same thing and where emphasis is placed will impact policy prescriptions.
In Localis' analysis of the government's Plan for Growth, we raised the criticism that the plan appears to conflate interventions that will raise the standard of living and quality of life in a place with those that will have immediate impacts on a place's contribution to national growth. Others, however, argue that the two factors of place prosperity and national productivity are inseparable.
Another criticism of the agenda is the manner in which its funding mechanism is currently structured to play out, with a complex system of competition-bidding, consortium-forming and MP-approval expected of councils looking to access funding. This, combined with the absence of any mention of local authorities in the 'levelling up public services' aspect of the legislative agenda creates the impression of councils being sidelined in the delivery of levelling up. Yet the UK's underfunded public services and critically ill-equipped adult social care system may well present as severe a stumbling block to material prosperity as low productivity or poor transport infrastructure.
With these issues in mind, "Level best? decoding local growth policy" – brought together a panel of experts in the delivery of economic development at the local and regional level to discuss the future of local economic growth in Britain, under the rule of the levelling up agenda.
Speakers included:
Cllr Ben Bradley MP, leader Nottinghamshire County Council
Joe Fyans, head of research, Localis
Professor Tony Travers, Director, LSE London
Catherine West MP (Hornsey and Wood Green, Labour)
Key points for discussion
– The link between placemaking/regeneration and productivity
Can the type of interventions outlined in the Levelling Up Fund prospectus – "regenerating a town centre, local investment in cultural facilities or upgrading local transport infrastructure" – deliver local economic growth of the kind needed to close the gap between London and the rest?
How should the role of central government funding for projects like high street regeneration vary depending on factors like region and deprivation?
– The evaluation criteria for a successful 'levelling up'
What is the correct way to define the problem levelling up is intended to solve? What kind of metrics should be used for success in levelling up?
In what sort of timeframe should we expect to see results from efforts at regional economic rebalancing?
– The role of public service funding in economic growth
Can solving issues of local housing supply, adult social care demand and other crises of public service be incorporated into local economic growth?
The policy webinar can be seen on YouTube: