LRA Campaign Webinar: Defining Resilience – Setting the standard for local climate resilience | Monday 05 June 2023 11:00 am – 12:00 pm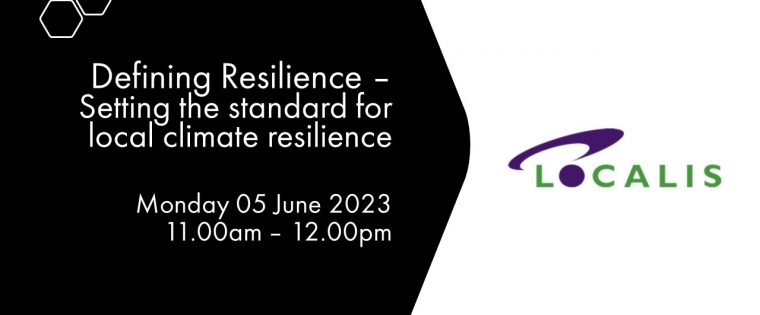 Aims & objectives of policy webinar
This webinar was the second event in Localis' campaign for the LRA. Resilience to the impacts of climate change is a responsibility shared across multiple sectors, governance geographies and organisational actors. As part of the research, we have been examining how resilience is defined across the policy and regulative landscape, and where exactly responsibilities lie. While there are clear measures in place in some areas of adaptation such as flooding, in more recently pressing domains of resilience such as extreme heat there remains ambiguity on what resilience could and should look like.
This webinar examined how resilience is defined across different places, policy lines and spatial scales, with the aim of understanding how the national legislative and regulatory framework can better support councils in delivering resilience at the local level.
Background and context
As climate shifts worldwide, councils across England are being hit by increasingly extreme weather patterns including violent storm surges, unbearable temperatures, and widespread flooding. Even under the most minimal of warming scenarios, infrastructure, public health, and GDP will all worsen due to the weighty pressure of extreme weather events.
If action is not taken, the UK might see damages of up to 7.4 percent reduction of its potential GDP by the end of the century, alongside devastating shocks to its agricultural sector and to the health of its population. Yet with suitable upstream mitigation and preventative measures in place, that figure would drop to a predicted 2.4 percent. Local authorities have the capability to enact necessary resilience measures for both the built and natural environment.
However, the current funding landscape for local government to deliver resilient places is far too piecemeal and insufficient. Furthermore, the system is overwrought with complexity – the division of responsibilities between local, central government and industry are too fragmented and disconnected for this to be addressed as a whole place agenda.
To address these problems, Localis proposes the drafting of legislation and construction of cross-sectoral support for a Local Resilience Act (LRA).
The LRA would serve to: –
• Ensure funding for place resilience to meet a statutory duty upon local authorities, as a core service line, to provide the best adaptation measures for the built and natural environments in the coming generations.
• Streamline existing legislation – including the current Levelling Up and Regeneration Bill currently going through parliament – to allow the absolutely necessary changes to happen at the local level.
Throughout 2023 Localis will be producing a series of reports, comment pieces, and events that will aggregate up to a comprehensive argument for a Local Resilience Act.
Guiding Questions:
What does climate resilience look like in different parts of the UK?
How can local authorities ascertain the correct approach to shoring up resilience in their areas?
Does the UK need a statutory definition of 'resilience' to set a minimum standard for climate adaptation responsibilities across public agencies?
Panel line up
Chitra Nadarajah, Head of Climate Change and Environmental Strategy, Hampshire County Council
Catriona Riddell, National Strategic Planning Specialist, Planning Officers' Society
Professor Samer Bagaeen, Localis Fellow
Watch the 'Defining Resilience' Webinar here: