'The Power of Pubs' protecting social infrastructure and levelling up: from 11.00 to 11.45 on Tuesday 20 April 2021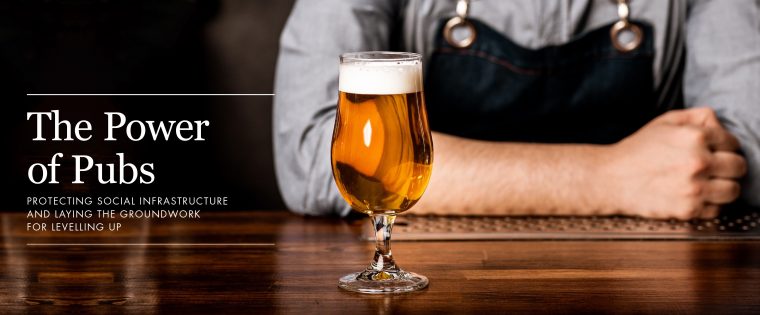 Writing in 1912, Hilaire Belloc warned: "change your hearts or you will lose your inns and you will deserve to have lost them". Should such a calamity unfold, Belloc added that "you will have lost the last of England".
In our report 'The Power of Pubs' Localis looked at the attempts made in 2020 by the UK government to avert this tragic scenario and the requirements for 2021 and beyond to shore up a national institution and place pubs at the centre of 'levelling up' the nation.
As one of the biggest contributors to the UK economy, the sector has a vital role to play in the recovery and levelling up journey of the country as well as in maintaining community cohesion and social resilience well beyond the pandemic. Pubs support 884,860 jobs across the UK, £12.1bn of wages, and £23.4bn of GVA across the country. They are a key part of the foundational economy in our cities and towns.
Aside from the economic impact of the lockdown on pubs, their closure has had a wider impact on community cohesion up and down the country. Pubs form a vital part of social infrastructure in place and are anchors that tie the community together. This is particularly true for rural towns and villages.
Speakers in the panel discussion included: 
Ed Bedington, editor at The Morning Advertiser;
Danny Kruger MP and author of 'Levelling up our communities';
 Emma McClarkin chief executive of the British Beer and Pub Association; and 
Paul Scully, Minister for Small Business, Consumers & Labour Markets and Minister for London: Department for Business, Energy and Industrial Strategy.
They debated the main findings of 'The Power of Pubs' report, principally:
What is the role of our pubs in 'levelling up'?

As a vital base of the 'foundational' economy, how should government plans for growth, skills and regeneration support what is a robust labour market for a young and diverse employee base over the coming decade?

How could the industry best work with local authorities and communities to ensure the 'pub is the hub' for a wide range of social purposes that promote cohesion and inclusion?
You can watch a YouTube recording of the panel debate:
Event supported by: