Empowered councils can deliver net zero and clean growth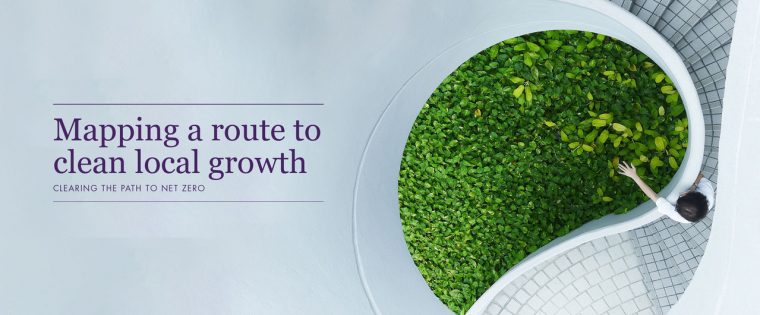 Local government should be empowered to independently fund clean growth projects and lead the drive to hit net zero in local communities, a report from Localis today urges.
'Mapping a route to clean local growth – clearing the path to net zero' calls on central government to raise the floor of support to help councils deliver a decarbonised local economy and to remove the ceiling on their ambition.
The report argues against a false dichotomy of 'economy versus environment' and instead says clean growth – spearheaded and catalysed by bold councils – could provide the much-needed growth gear shift which has eluded the British economy for decades.
The transformative change required to alleviate the damage of climate change should go hand in hand with the levelling up agenda to usher in more inclusive and balanced regional economies, says Localis. The empowerment of councils can galvanise improved productivity, long-term job creation in strategically important industries, improved quality of life and a better environment, as well as tackling many of the causes of the cost-of-living crisis, the paper argues.
The report also says that Local Plans – the documents agreed by councils which chart future land use – should set out how each area is to be decarbonised, for instance by demanding the highest energy efficiency standards and setting out a timetable for retrofit.
Meanwhile, the government is urged to set up a fund to support the retrofitting of housing and other buildings and to also to give local leaders autonomy to directly address this as a priority area for place-based decarbonisation.
The study examined five main economic pillars crucial to attaining net zero: housing and the built environment; energy; manufacturing; transport and infrastructure and land management and climate resilience.
It concluded that local government faces three key challenges in driving decarbonisation and delivering clean local growth: strategic planning across boundaries, addressing the skills deficit and the need to drive inward investment.  In addressing these challenges, the report authors called on local government to lean on its soft power as place leaders to drive action and to take on a whole place approach to local economic strategy.
There are five action points for local leaders.
Rethink an area's local plan so that it becomes the local driving force behind decarbonisation and clean growth- ensuring housing and economic needs are met sustainably. The local plan should be used to demand the highest energy efficiency standards, set out a timetable for retrofit, and become the ultimate guide to the fulfilment of your area's net-zero goals.
Councils should conduct green energy reviews. These should set out what community energy projects and renewable energy assets exist in the local area and provide an understanding of the potential scope for increasing local, sustainable energy generation.
Engage local businesses, especially manufacturers, as they embark on or accelerate their passage on their decarbonisation journey. Engagement and expert advice, and a culture of cross-sector collaboration can bring about a just transition to net-zero industry.
Review active travel policies to evaluate the scope to change the travel behaviour among parts of your local demographic which have been reluctant to adapt.
Develop a holistic land use strategy for areas so that carbon-intensive land use is offset and meet multiple objectives to increase biodiversity, flood and climate resilience and improve food security.
Localis head of research, Joe Fyans, said: "Local authorities across the country are rightly acting to push their local economies in the direction of decarbonisation and better, higher growth.
"This report is filled with examples of councils acting within current systemic constraints to deliver net zero – using their Local Plans to push better practice in the built environment, investing locally in the generation and supply of renewable energy, working with local business to increase sustainable practice, leading a transformation in land management, and driving behavioural and infrastructural changes needed to transition justly to a net zero country."
Cllr Sarah Nelmes, environment spokesperson of the District Councils' Network, said: "There is huge ambition among local leaders to transform our places towards a cleaner, healthier, net-zero future – this is, quite simply, the biggest challenge our places face.
"This is a challenge local leaders can meet alongside growing their local economy. Far from decarbonisation and growth being conflicting goals, the former is a prerequisite to the latter if our local economies are to remain sustainable long-term.
"District councils have the highly-localised convening power necessary to drive behaviour change among our communities and our businesses, and to lead the drive for green growth. Our message to government is to give us the freedoms we require to get the funding for decarbonisation and in our places we will be your partners for change."
Adele Gritten, chief executive, Local Partnerships, said: "Many of the actions required to tackle the cost-of-living crisis and greenhouse gas emissions are the same. Fundamentally, we need to become more efficient and use fewer resources.
"Energy is a key resource in this context and wholesale programmes of energy efficiency measures and active travel would save both the planet and stretched household budgets. This work is best co-ordinated locally, with local authorities leading on everything from land use to skills planning and growing the green economy."
Cllr Paul Bettison, chairman of the Unitary Councils' Network, said: "Unitary councils want to go further and faster with delivering green jobs and green solutions for our residents to help them reduce energy bills and to deliver our communities' net zero targets.
"As the leaders of our respective places, we want to work with government, the private and voluntary sectors to increase the pace of change to ensure we can meet the global climate change targets."