Give councils power to level up and improve local public services, Localis integration report urges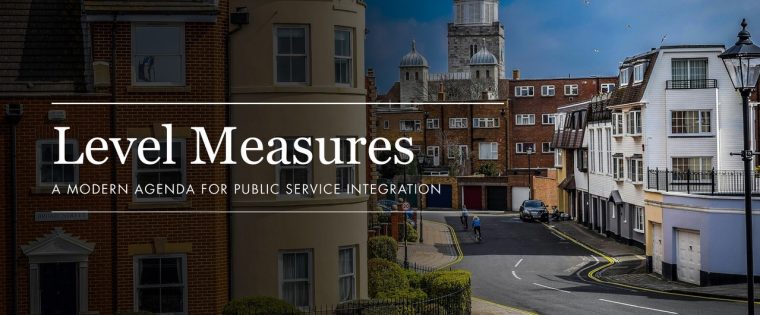 Government should give councils greater financial powers to marry the needs of day-to-day local services with levelling up style capital pots to ensure measured improvements in public service outcomes, a new report from Localis has argued.
In a report published today entitled 'Level Measures – a modern agenda for public service integration', Localis makes the case that England's councils will need to innovate and collaborate if they are to address the capacity gap that threatens their ability to fulfil the government's dozen levelling up missions.
According to Localis, which ran seven regional roundtables with council chiefs in the course of its research, there are seven principles for a modern public service integration agenda capable of delivering sustainable local public service reform:
reliable, consistent and long-term funding;
a holistic understanding of public services and their interconnected nature;
trust between levels and tiers of government;
deep internal insight into and understanding of performance data, shared across boundaries and between tiers;
external audit which is based on outcomes, not outputs, considering the totality of local circumstances;
an integrated, systems-based approach to provision which focuses on upstream prevention and user outcomes;
partnership frameworks based on long-term strategic goals which maximise local value.
To match the government ambition to level up every part of the country, the report authors recommend that devolution deals should include provisions to fund both the delivery of neighbourhood services and the capacity of councils to strategically coordinate provision across service lines to prioritise upstream prevention.
Other key recommendations include calls to:
clarify the intended role and purpose of the Office for Local Government (Oflog) and broaden it from a reductive focus on data – to prevent an oversimplification of local governance, ensuring that its role aligns with the broader of objectives of public service delivery and the levelling up missions.
Subregional centres should be established for the collation and analysis of public service data, to be used as a shared resource for councils across a wider geographic area and spearhead improvement in local place-based services.
Civil service training for policy professionals should include a core element focusing on the form and function of local government.
Localis chief executive, Jonathan Werran, said: "In Levelling Up, the clear linkage between performing the basics of neighbourhood services brilliantly, and creating the conditions for strong communities from which to build the foundation of a strong local economy and a prosperous and unified nation has been a helpful flarepath.
"In the course of our research, which involved seven regional roundtables with local authority chief executives and senior directors, we heard an open and palpable desire from our place leaders to continue to innovate to deliver responsive neighbourhood services as the foundation of prosperous places in all corners of the country.
"Allied to this is the pursuit of excellence in local government's more adroit use of data analysis and its longstanding mature approach to partnership working across the private and voluntary sectors – as well as leveraging the early benefits of the Integrated Care Systems for population health.
"If public service reform is best served through place-based approaches, an effective neighbourhood public service integration platform offers the promise of more gain for less pain."
Andy Foster, Strategic Partnerships Director, Capita, said: "The complex and challenging nature of delivering public services at a local level has never been under more pressure than it has today. Rising inflation, increasing cost of delivery and inexorable demographic pressures are creating budgetary and social challenges that will not be solved by local government alone.
"The role of the public sector worker, local authorities, and their private and not-for-profit sector partners, will need to change if regions are to be successful in levelling up and meaningfully supporting their communities.
"That is why this significant research programme has been so important for Capita to help develop and support. It represents a crucial component in understanding some of the most complex challenges affecting our communities and shines a light on how they are being solved.
"The relationship between public, third and private sectors has never been more important, and this report reinforces how the whole eco-system of public services needs to work closer than ever to lead and define what levelling up means locally."