LEPs not suited for growth role, Localis warns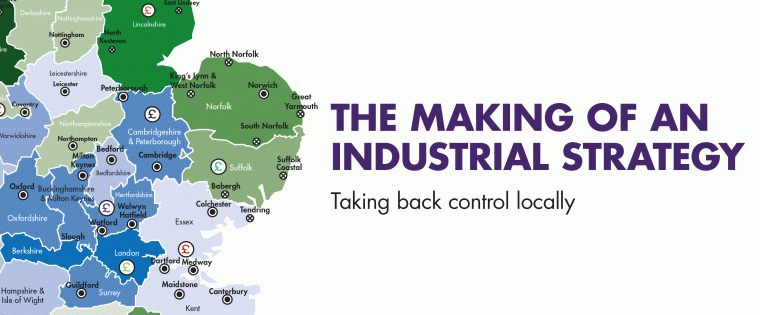 In response to today's publication of the Industrial Strategy White Paper, Localis chief executive, Liam Booth-Smith, said: "The decision to give England's Local Enterprise Partnerships (LEPs) primary control for strategic economic planning is a disappointing and sub-optimal option for driving national growth and productivity.
"In March this year our paper 'The Making of an Industrial Strategy: Taking back control locally set out an immediate and practical roadmap for rebalancing the post-Brexit economy.
"Our original recommendations, urging radical new powers to revive moribund local economies in areas covering two-thirds of England – many of which lack the strength and capacity to deliver the Government's Industrial Strategy – were endorsed by the Conservative Party Manifesto and find a strong echo in today's publication.
"However, there must be concerns about LEPs, rather than councils, gaining the central role in driving local industrial strategy.
"Put simply LEPs are not the right groups for this task.  Earlier this year Communities and Local Government Secretary Sajid Javid told LEPs to 'take a good look at your corporate governance' – echoing concerns about their transparency and accountability previously voiced by public spending watchdogs the National Audit Office and Public Accounts Committee.
"Another concern is the wide disparity in leadership and powers between LEP areas.  Some LEPs do a very good job, with excellent people involved on boards and leading them but others are less well-equipped to leading local industrial strategies effectively, democratically or accountably.
"There is no reason councils and LEPs can't work successfully together. Twenty-three LEPs fit exactly over strategic authorities – existing combined authority or county council areas.
"But the risk is that local industrial strategies will be years in the making.  This is time the nation cannot afford when an area's ability to respond to the combined economic challenges posed by Brexit, automation and low-skills levels, depends on the raw material of human capital.
"To accelerate the process, those areas without devolution deals – covering more than two-thirds of the country and 36.1 million people – should receive an 'industrial compact' allowing them to take full and immediate ownership of a suite of economic and fiscal powers, allowing them to compete globally."