Brighten All Corners
Maximising social value in place
Author: Joe Fyans, Callin McLinden & Bethanie Roughley |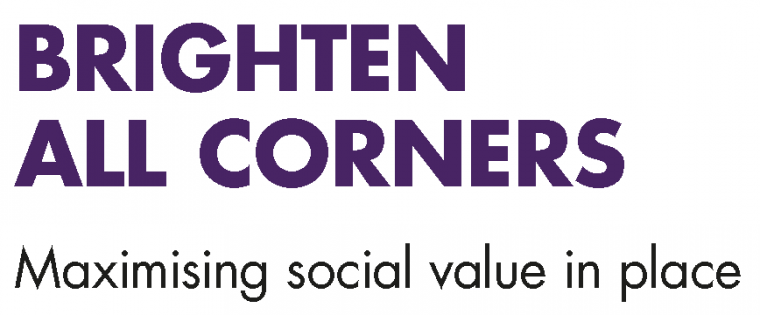 The Public Services (Social Value) Act 2012 was first presented to Parliament a decade ago, enshrining in law the duty of public sector commissioning to pay regard to economic, social and environmental wellbeing when making procurement decisions. In this time, the incorporation of a social value element into the assessment of public sector contracts has transitioned from a campaigning concern to a statutory requirement and finally to a universally recognised consideration in public sector commercialism.
With ubiquity, however, there is always the risk of complacency. Brighten All Corners is a timely examination of local implementation of the Act with recommendations for a deeper, more meaningful role for social value led procurement in raising local prosperity. Through a series of interviews, roundtable discussions and open survey exercises, the report highlights several issues with the Social Value Act in practice. The crux of these issues is a need for a degree of standardisation, carefully combined with a built-in consideration of local context. We propose a new model of Community Value Charters to meet these challenges.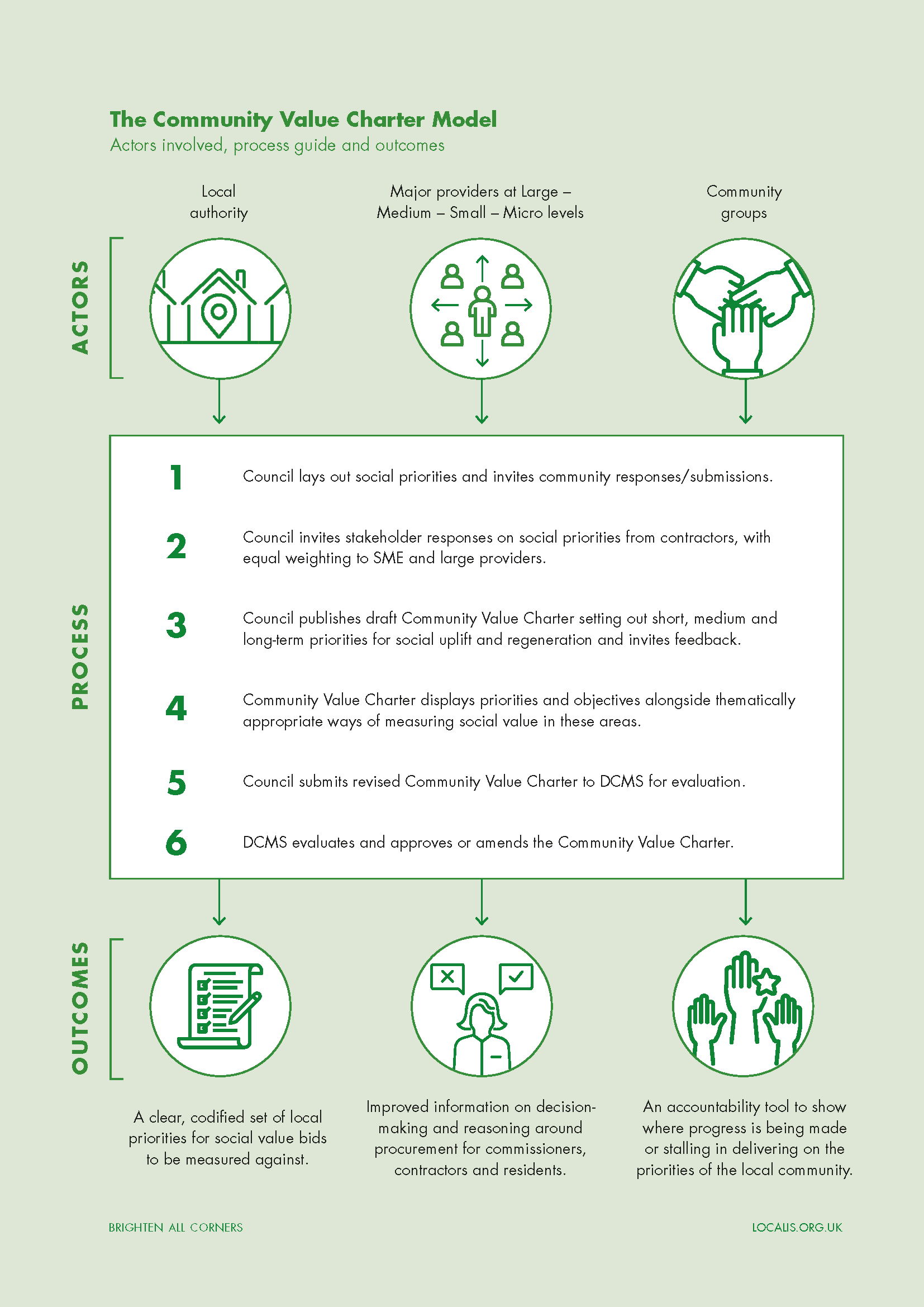 Key Points
The need for local context
An understanding of what social value means within the local context is crucial to achieving the goals of the Act. Yet there is a limited reserve of this kind of expertise in the adjudication process of tendering contracts, particularly at the local level due to the massive strain on resources since austerity. If the social value requirement in a tender is unclear, it bakes vagueness into the process. It is from these concerns that the need to arrive at a certain universalism in social value commissioning arises. Commissioners told us of frustration with companies providing "fairly standard" examples, while providers spoke of a lack of clarity or direction in what is required. Context, as well as training, awareness and understanding is needed on both sides of the process.
The need for consistency
One senior local government official described social value as 'candy floss without a stick' – it needs something to hold it together. For social value to be at its most effective, there must be coordination across silos. This can be especially difficult in local government due to organisational fragmentation necessitated by the wide variety of roles councils play. It is important for different departments to have a shared understanding of local priorities, which themselves must be defined through consultation and engagement. If applied in a piecemeal way with varying levels of commitment, the social impact of procurement may fail to become tangibly beneficial.
Improving accountability
At the back end of the procurement process, the lack of follow-up on social value pledges is a major issue with the implementation of the Social Value Act. This, again, often comes down to the severe resource constraints in which local government commissioners operate. Legal obligations, particularly if attached to locally agreed priorities and values, could augment other 'bottom-up' forms of accountability such as satisfaction ratings in league tables, long considered to be 'blunt tools' for delivering positive outcome. A social value break clause would be an answer to calls for more productive accountability measures in the public sector. This would focus on getting local priorities straight and the social value offer clear at the very outset rather than a blame game in the aftermath.
Project kindly supported by