Ethical Commercialism
Reforming Public Service Markets
Author: Joe Fyans, Zayn Qureshi and Bethanie Roughley |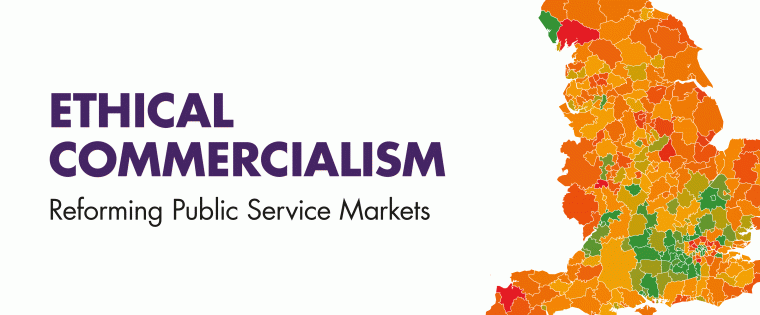 The state of the public service market is much more precarious now than in the past, with a number of major government contracts being either cancelled or bailed out at taxpayer expense. With concerns over profitability mounting and contracting bodies seeking to meet stringent savings' targets, margins for failure have become perilously narrow. As profitability becomes more difficult to attain, firms risk getting 'locked' into a cycle of revenue-chasing. Operating in a high-pressure market where mistakes become seemingly inevitable, structural and systemic factors compound the pressures on government outsourcing.
However, we argue that the public services market is one worth sustaining. 
Key Points
Trust should be the focus of reform
Public perceptions of the involvement of private companies in delivering public services are increasingly negative. This is exacerbated by public ignorance as to which companies are delivering local services for their community on behalf of councils. Political resistance is increasing, heightened by the Labour Party's adoption of a markedly sceptical approach to big business and a stated desire to revert to the 'democratic public ownership' of key public services. It is popularly felt that even if local government does have to go down the outsourcing route, councils should contract with Small and Medium-sized Enterprises (SMEs). However, the public procurement process is long and expensive. For local councils to make real savings from contractual arrangements, companies need to have built up capital behind them. Most SMEs would struggle to achieve this at the scale required. To ensure fruitful and meaningful commercial agreements, it is essential that trust is rebuilt through improved accountability and greater transparency. It is also in the interest of private companies which are struggling to maintain profitability within existing contracts to reform market terms and conditions.
The role of local government
With such large quantities of public money being paid to the private sector to deliver local public services, it is essential that the public service market upholds honesty, integrity and transparency. We argue that an 'ethical' approach to commercialisation is the key to saving public services, not just on an ideological basis, but also on a pragmatic basis. Drawing up procurement agreements is often difficult, time-consuming and complex. It is incumbent, therefore, upon local authorities to take it upon themselves to change the procurement culture and ensure public service deals are more focused on innovation and environmental concerns, and that contractual agreements offer greater social value to residents in localities. A rigid contract of the type of deployed in local government service delivery can create barriers to common-sense, leading to an adversarial relationship developing. Strategic direction must be developed for procurement, under which objectives for public service contracts should be agreed at the earliest possible stage – before they are codified in contractual obligation.
The role of the private sector
The private sector, in particular the large firms who act as major strategic partners to all branches of government, clearly has a lead role to play in restoring trust and changing the culture of suspicion. Part of this is related to the public image of outsourcing, which is in dire need of improvement. For large private sector companies, tax transparency and executive pay disclosure must be seen as part of the price of doing business with the public sector. Large private sector firms can use their knowledge of supply chains to act as a conduit for government business to many thousands of small and medium-sized businesses. Through involvement in setting a strategic direction for public service contracts, private companies can agree with local authorities' quotas for participation by local SMEs, ecological sustainability and driving innovation.
The role of the citizen
Citizens need a clearer and more developed role in the appraisal of commercialism in government. We call on central government, in collaboration with the Local Government Association, to develop a single, comparative tool for citizens to access information about the contracts and associated performance in their local authority. Currently, there is no such single platform: councils are obliged to publish waste contract details somewhere on their website, although there is no need to inform people of the lack of such a page if waste is handled in-house. Contract registers are provided, but there is a shocking lack of uniformity to the way the data is presented. Often a contracts register will be a spreadsheet featuring each individually-procured service and data spread over multiple columns, with little to no contextualising information. Through services like Nomis UK, the ONS data explorer and Public Health England's 'Fingertips' tool, citizens can now access clearly presented information on a range of public data. The same is needed for the outsourcing market, which must be brought into the light if it is to be trusted.
We assert the public services market is worth saving not for ideological but pragmatic reasons: the public sector simply can't afford a rapid collapse in the public service market. 
We argue that the public services market is one worth sustaining. In many instances contracts are multi-generational and have been delivered by private sector providers for decades, meaning public sector expertise in these sometimes critical service areas has migrated out. Secondly, contracts tend to be long term to ensure that financial benefits accrue over a period of many years – spanning electoral cycles and spending review periods. Terminating contracts early could cost, and have already cost, local councils millions of pounds – often cancelling out or exceeding in expense any intended savings.
Policy Recommendations
• Local authorities should develop procurement strategies in collaboration with neighbouring authorities and the private sector to outline the key goals for service delivery, sustainability and innovation.
• Local authorities should co-brand all contracted-out services with the service provider to stress partnership and promote knowledge of the everyday effectiveness of many contracted services.
• Local authorities should be encouraged and incentivised to employ relationship managers on the demand-side, in recognition of the importance of long-term relationship building to developing mutual trust.
• Relationship managers should be given leeway to overrule the need to publish all contracts on ContractFinder – under conditions where awarding an existing provider would work to strengthen the bond between the provider and the local area.
• Cabinet Office guidelines for procurement should be refocused away from rigidity and towards flexibility, giving both sides greater room to manoeuvre.
• The Local Government Association should oversee the development of a single platform for local government contracts data – using as a basis for imitation Nomis UK, the ONS data explorer and Public Health England's 'Fingerprints' tool. This platform should also be inclusive of any relevant Key Performance Indicators of the service.
• When Britain leaves the European Union, local authorities should be allowed to give preferential treatment to employers paying the living wage in their area.
PROJECT KINDLY SUPPORTED BY