Moving Through the Gears
Where will local government finance be in 2030?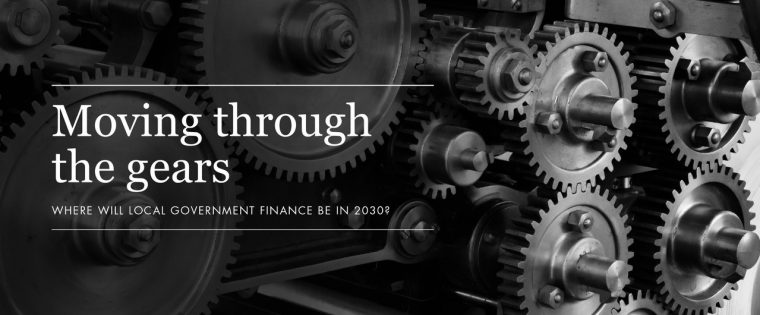 Council finances are in a precarious position. Wound tightly from the time of the astringencies of the 2010 spending review, to the limited protections that saw the sector through the Covid years, the principal cogs of local government finance – property taxes, commercial revenue, fees and charges, capital expenditure and grant funding, are clearly out of synch. Acknowledgement of this fact is beginning to embed itself across the political spectrum.
In a speech delivered at Bloomberg on 27th January 2023, chancellor Jeremy Hunt hinted that a corner may be turned on local government finance during this parliament, promising to "move more decisively towards fiscal devolution". Meanwhile, the Labour party made the 'New Britain' report by former prime minister Gordon Brown their flagship piece of 2022, which included recommendations around fiscal devolution and a long-term finance settlement.
So, ahead of the March Budget, perhaps the last great set piece fiscal event for the chancellor to try to change the tide of the political times, Localis has asked some of the major players from the local government family, experts and academics, to set out their thoughts, views and hopes for local government finance in the next political cycle. Moving through the gears is an essay collection covering perspectives on what the future could, should and might be for local government finance, featuring contributions from across the local government sector alongside leading practitioners and experts in the field.
Essay contributors
Abdool Kara (in personal capacity), Executive Director, National Audit Office – 'Taking the strain – securing the sector's future financial sustainability'
Cllr James Jamieson, Chairman, Local Government Association – 'Place leadership – moving us out of first gear'
Professor Colin Copus, Localis Visiting Fellow – 'Moving through the gears or just grinding the gears: devolution and fiscal autonomy for local government'
Cllr Tim Oliver, Leader of Surrey County Council – 'A devolution solution to funding challenges'
Dr Mark Sandford, Senior Researcher, House of Commons Library – 'Courageous conversations and the future of local government taxes'
Paul Honeyben, Strategy Director: Local Government Finance & Improvement, London Councils – 'The London Finance Commission one decade on – are we raising the capital?' 
Iain Murray, Director of Public Finance Management, CIPFA – 'How can local government professionals rise to meet future challenges?' 
Cllr Sam Chapman-Allen, Chairman, District Council's Network – 'Finding fiscal freedom – to deliver' 
Joe Fyans, Head of Research,  Localis – 'Bound together – The twin fates of local government finance and the net zero' 
Jonathan Owen, Chief Executive, National Association of Local Councils – 'Parish power: the secret cog in the council finance wheel'