Cultivating new garden cities – housing webinar from 11.00 to 12.00 on Tuesday 26 January 2021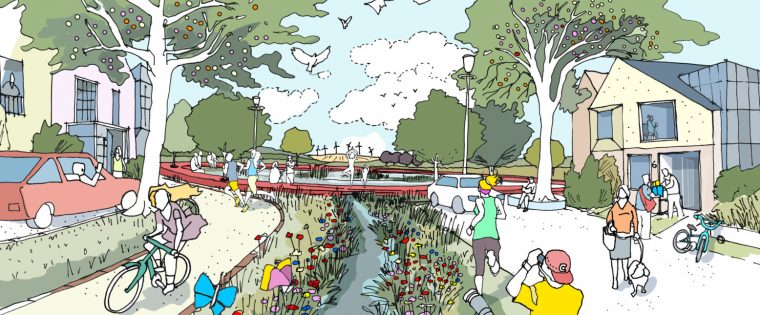 As visionary ideas go, the garden city movement as evangelised and then realised by Ebeneezer Howard, the founder of the Town and Country Planning Association, in Letchworth and Welwyn in Hertfordshire, remains among the more influential in our planning policy. Howard believed that out of a marriage of town and country would spring 'a new hope, a new life, a new civilisation'.
Beyond the ten new towns brought to life under the 1946 New Towns Act (including Bracknell, Crawley, Hatfield Stevenage) and the half dozen (among them Skelmersdale and Telford) the movement faded out before the end of the 1960s. Attempts by the Blair government under John Prescott to resurrect this movement branded as ;eco-towns' came to naught.
However, in 2014 the garden city idea was given strong policy legs by the winner of that year's Wolfson Prize for showing hundreds of thousands more homes would be sustainably developed by granting garden city status to more than 40 existing big towns and cities – including Oxford, Northampton, Norwich and Rugby could be doubled in size.
As things stand, government has designated 15 garden towns of more than 10,000 residents and a further 34 'garden villages' of fewer than 10,000. Altogether these provide an estimated capacity of 403,000 homes sprinkled across England though more commonly in the south, but modelling indicates the programme will take until at least 2050 to build out fully – posing the question as to whether politicians will support a long-term initiative that will span multiple political cycles.
Speakers include
• Sir Paul Carter, former chairman, County Councils Network and former leader, Kent County Council
• Steven Howell, head of investments, Ministry of Housing, Communities and Local Government
• Toby Lloyd, former Number 10 housing adviser
• Ian Tasker, director, Grant Thornton
Among issues this webinar raised were:
• How well does the garden towns concept stand up to the pressures of economic recovery and the direction of the 'Planning for the Future' agenda?
• Does the 'stewardship' model of local development corporations for master-planning still hold up and will private capital be available in sufficient quantities to fund infrastructure investment?
• Would a public/private Alternative Delivery Model provide a more equitable way of sharing value?
• What action and strategic interventions should Homes England take to safeguard and support garden communities?
• How and to what extent can garden communities build back better – delivering more affordable homes, better space standards and environmental sustainability?
A full recording of the webinar can be viewed below:

Event kindly sponsored by: