"See clearly now: transparency and social value": Friday 9 July from 11.00 a.m. to 12.30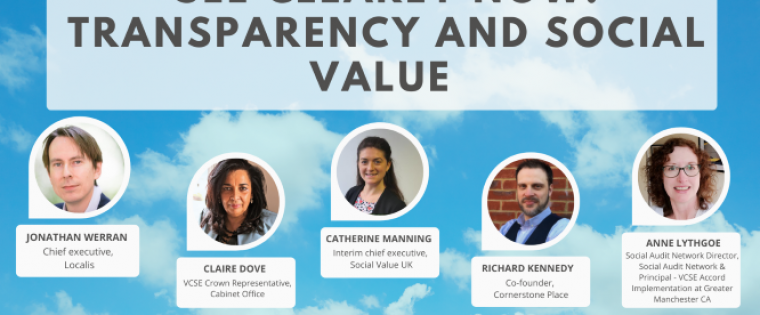 A Localis / Social Value UK Webinar on transparency in the procurement world.
About this event
A free webinar, facilitated by Localis and Social Value UK
The Green Paper for Transforming Public Procurement sets out to promote value and transparency at the expense of red-tape. As a principle of public procurement, transparency is to be enshrined in law – alongside value for money, the public good, integrity, efficiency, fair treatment of suppliers and non-discrimination.
Isolating transparency is a precursor to better practice development across all forms of local public commissioning. There should be a shared understanding that perfecting this in the context of social value will be a journey rather than a one-time, big-bang effort.
Commissioners, suppliers and communities alike will have to reject any wild claims citing perfection and get with the reform programme on the basis that everyone is doing their best, with what knowledge and resources they have at hand.
That said, it would be helpful to arrive at a common definition of good when it comes to transparency in the context of creating social value.
Since transparency is such an important part of the process, how can its optimal use deliver operationally for the benefit of communities in their environments, local services and amenities and assisting local economies in recovery efforts?
So this webinar asked us to consider:
What is being done to promote transparency in social value?
What practice – both good and bad – is out there to illuminate what the next steps should be?
What initiatives are already out there, offering cross sectoral thought leadership, space for sharing practice, constructive criticism to help to build better practice, and guidance, resources, tools?
Speakers included:
Claire Dove CBE, VCSE Crown Representative, Cabinet Office
Richard Kennedy, Co-founder, Cornerstone Place
Anne Lythgoe, Social Audit Network Director, Greater Manchester Combined Authority
Catherine Manning, Interim Chief Executive, Social Value UK
Jonathan Werran, Chief Executive, Localis (chair)
You can see the panel session via YouTube:

In partnership with Social Value UK