Combined talents | devolution and changes to the landscape for public service delivery | policy webinar Wednesday 21 June from 11.00 to 12.00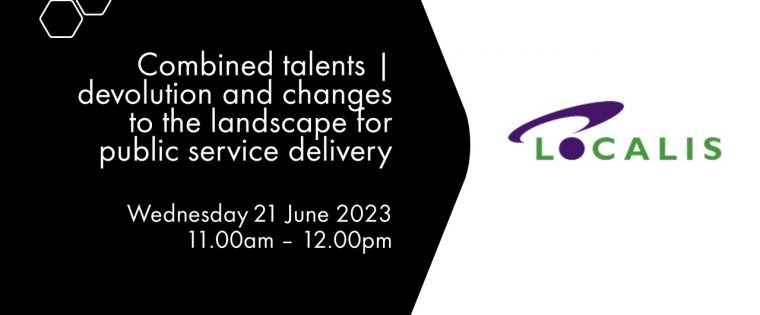 Background and Context:
The dynamic of devolution and centre of gravity for local public service reform is clearly moving through the prism of trailblazing combined authorities. In the most recent budget, Combined Authority pioneers Greater Manchester and West Midlands were effectively treated as de facto government offices for the regions.
Indeed, a stated intention of combined authorities, especially since the 2011 Localism Act and Cities and Local Government Devolution Act 2016, has been to improve the delivery of public services. In the intervening years, combined authorities have been the major focus of devolution policy in England, codified in the Levelling Up White Paper as the only vehicles able to receive meaningful, 'tier 3' devolution.
This webinar will ask how successful combined authorities have been in improving public service delivery, both from a resident and local authority perspective, as well as considering what the impact might be on the service delivery of councils left outside of combined authorities.
And in terms of governance, how does the 'tractor beam' pull of combined authorities distort the ecosystem of local service delivery? And if it is the case, isn't it about time we had an honest conversation about what this is doing to relationships between combined authorities and constituent councils, as much as between central government and our localities?
Guiding Questions
This webinar asked us to consider:
Have residents in combined authority areas seen an improvement to their public services?
How have combined authorities changed the way local public services are commissioned, delivered and assessed?
What does the prevalence of combined authorities in policy discussions mean for councils as agents of public service delivery?
Panel line up:
Akash Paun, Programme Manager – Devolution, Institute for Government

Peter John, former chair, London Councils
Joyce Liddle, Professor of Public Leadership and Enterprise, Northumbria University
John Shutt, Professor of Public Policy and Management, Northumbria University
Amardeep Gill, Partner, Trowers & Hamlin
You can watch the policy webinar via our YouTube channel: