Hitting Reset
A Case for Local Leadership
Author: Joe Fyans, Bethanie Roughley & Zayn Qureshi | In recent years, a sense of alienation from national politics has arisen in significant parts of the country and among significant cohorts. The Brexit vote has given rise to a political imperative to, on the one hand, raise productivity and on the other, ensure that gains are felt immediately across the country. This does not need to degenerate into further polarity, pitting towns against city, leave versus remain, metro versus retro. Economies are developed by improving the connections between places and playing to inherent strengths. This is the essence of decentralisation and leadership of place.
Hitting Reset lays out a roadmap to a decentralised UK, where democratically-elected local leaders have the power to govern, and the capacity of councils to bring together private and public actors to achieve local development is maximised. Bringing together cutting-edge academic work, international case studies and an extensive interview series, we make the case for local leadership. This has never been more crucial as today: if trust in politics is to be restored, citizens must be able to see the impact of democracy (or 'take back control') in their communities and local economies.
You can also download the charts and infographics from the report as standalone images.
Key Points
Combatting underdevelopment through investment
Leaving the European Investment Bank provides an opportunity to develop a system that moves the UK away from very targeted initiatives, where investment centres on the improvement of transport links to London, or a never-ending succession of bidding for cash pots. In line with the HCLG Committee, we advocate a British replacement, which has the potential to be far more valuable than a Shared Prosperity Fund that simply swaps Brussels for Whitehall in a handouts system. To be clear, the government should guarantee the continuance of EIB loans and EU structural funds until 2020. After Brexit, however, the opportunity to reform should not be missed. To move forwards, a British Investment Bank should be established, with Local Enterprise Partnerships able to formulate applications for major infrastructure loans alongside local government.
Creating conditions for local leadership
To achieve the kind of development and diversification needed for national renewal and local economic rebalancing, places need leadership. Central to the ability to govern effectively is the ability to tax and spend, sorely lacking in UK local government, which has increasingly become a mere delivery arm for the central state. Democratically elected local leaders need the power to tax and spend, as well as the security to strategise long-term.  Locking local government finance settlements into broader, ten-year cycles would account for the latter, with a transition towards fiscal devolution achieving the former. This would amount to the devolution of not only roles but also responsibilities, moving local government away from delivery and towards governance.
Extending local civic capacity
Local government has the potential to be a vital convener of civil society – bringing together public and private actors to coordinate action and promote local goals. We look at reforms necessary to bring democratic local leadership to the fore in health, welfare and skills. The report shows that new bureaucracy is not needed, merely better alignment of what is already there – the CCG and the local authority in health; the Jobcentre Plus, Citizens Advice Bureau and local authority in welfare; and the Skills Advisory Panel in skills training. Lining up and integrating these functions under local leadership is crucial to achieving sustainable economic development.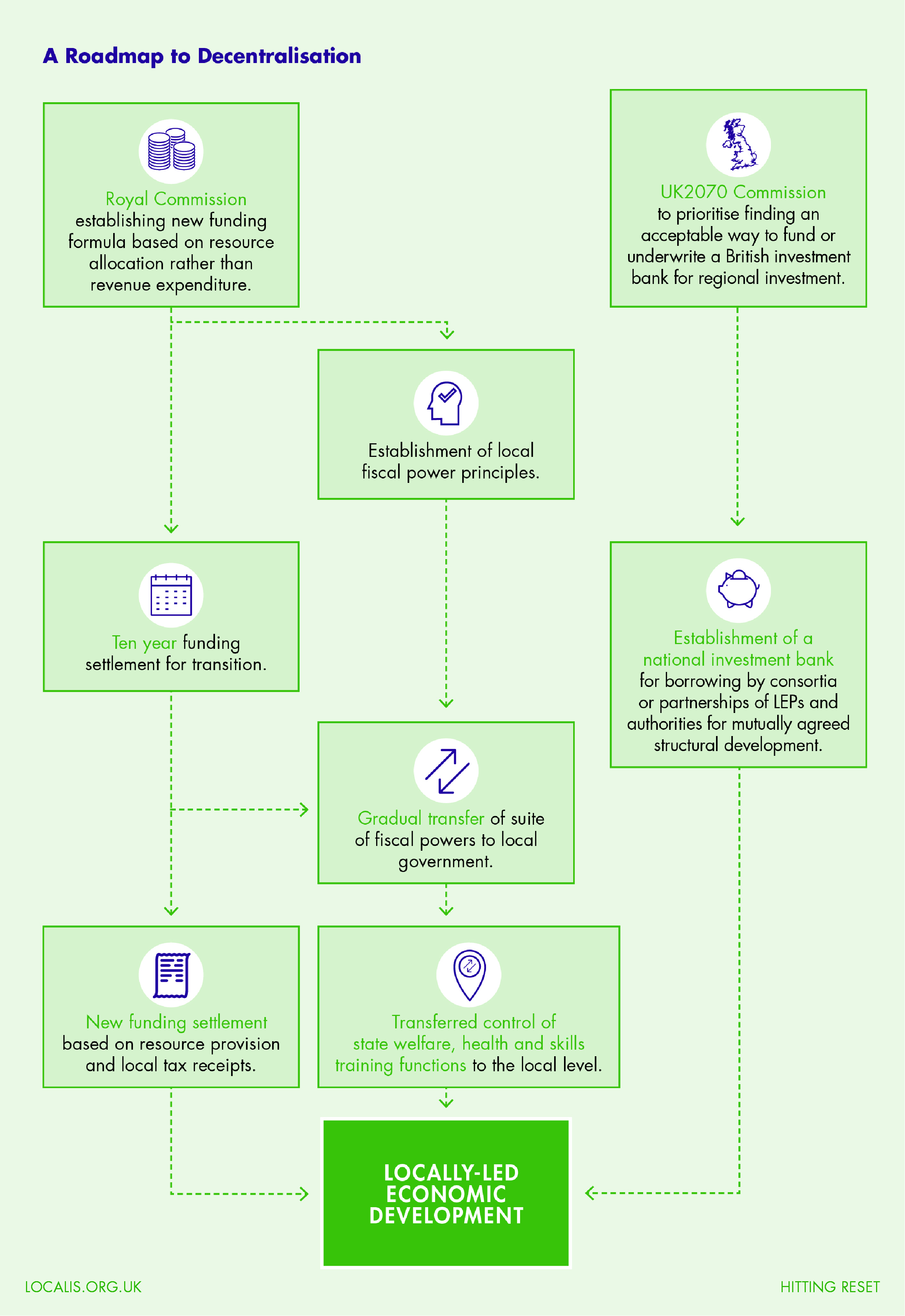 Project kindly supported by